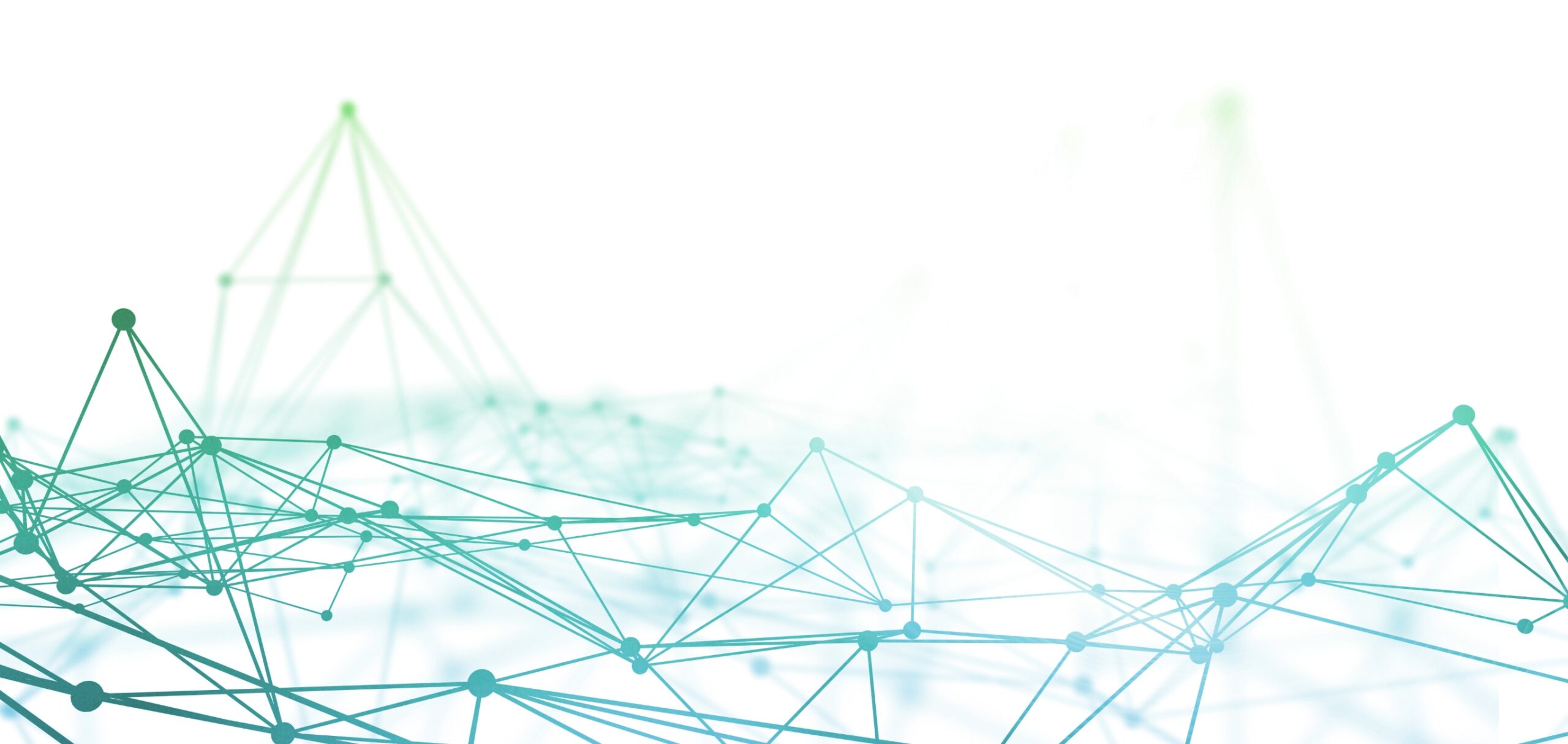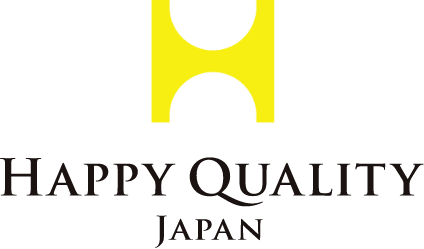 Data-driven agriculture
Happy-style market-in agriculture model
Mission
Bringing the Happy Quality to Everyone
We believe that " Happiness Quality" means the quality that realizes people' s happiness: the thoughts of those who produce, the wishes of those who deliver, and the satisfaction of those who buy. The common standard is the "Happy Quality Sold-Out Product Concept" that satisfies the required quality and value. A "Chain of Happiness" generated by creating products that people will buy. We will guarantee the Happiness Quality and deliver it to everyone through the realization of data-driven agriculture.
Vision
Creating a global standard
for all processes from production to distribution.
Make the Happy Quality Standard the Global Standard
Our vision for the future of our business is to create social value as an "infrastructure service company for the agricultural industry from production to distribution." We will contribute to the revitalization of Japan's agriculture industry by reforming the agriculture and fruit and vegetable distribution industries, changing attitudes, and rebuilding the value chain through various R&D related to agricultural management using cutting-edge technology.
Service




With the "Happy" method,
you can operate your farm without
being bound by the market price of commodities.
Our "Happy style market-in agriculture model" agricultural management support service provides a set of cultivation techniques and cultivation guidance, making it possible for any FC farmer to produce brand-name tomatoes with high functionality, high quality, and high unit price. In general, even if a farmer is able to produce high quality crops, there can be cases where the farmer's efforts are not rewarded in the conventional supply chain, where the purchase price depends on the market price, but in our service, our unique purchase system guarantees the farmer's sales.

Advantages of Installation
Anyone can easily grow high-quality, high-unit-price "sell-out" products.
Improved farm income and
stable management by guaranteeing the purchase of the whole crop.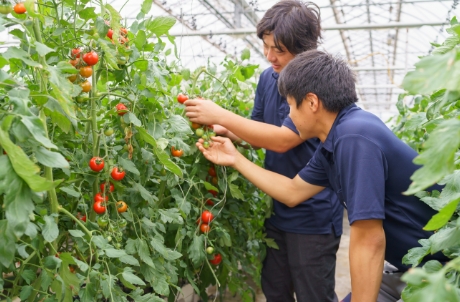 Easy adoption of the cultivation method
not relying on human intuition and experience,lowering the hurdle to entry into farming.
The "Happy-style Market-in Agriculture Model" utilizes technology to formalize the cultivation know-how of high quality crops, which until now has been acquired only by "master farmers." We provide FC farmers with a manual of cultivation techniques for high-performance, high-quality, high-unit-price products at a low price, and also provide them with cultivation guidance to achieve efficient, sustainable, and stable production.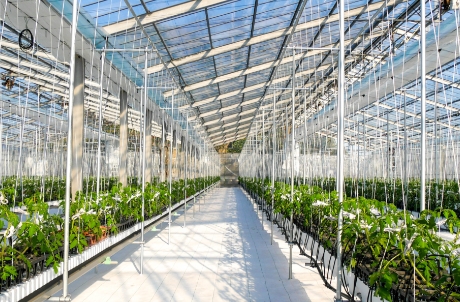 With our unique purchasing system,
we can establish a profitable base for
agricultural management.
Even if you are able to produce high quality crops, you may not be rewarded for your efforts if the purchase price is influenced by the market price. The "Happy-style Market-in Agriculture Model" contributes to the healthy farm management by "securing farm income for producers" through our unique purchase system.

Products
These products are cultivated with the technology to grow high functionality and high quality products with the concept of sold-out products, utilizing technology to formalize and manualize the know-how of high quality crops that had been acquired only by "Artisanal Farmers".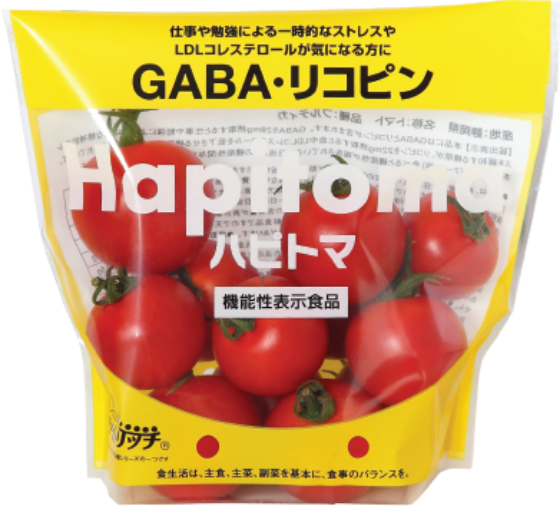 Realizing functional labeling with double ingredients of GABA and lycopene.
Hapitoma is the first fresh food in Japan to be labeled as a functional food with double ingredients of GABA and lycopene. The lycopene content is more than twice that of ordinary tomatoes, and it is also the first fresh tomato to be approved as a health claim for stress relief.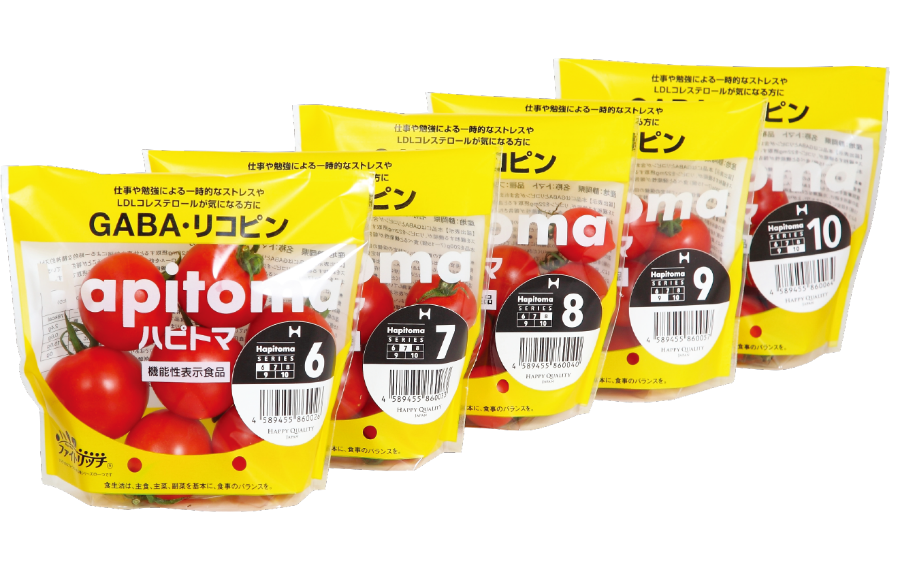 The "Hapitoma Sugar Content Series" is a lineup of products with sugar content ranging from 6 to 10 degrees. Hapitoma uses a variety called Frutica, which is rich in lycopene. We use only the minimum amount of pesticides to ensure safety and security in our production. The sugar content is not measured by extraction, but by using an "optical sensor sorting machine" that uses near-infrared light to measure the sugar content, shape, and lycopene of each individual tomato. You can choose the tomato that best suits your taste.
This is a product that responds to the diversifying needs of consumers.
Doctor Melon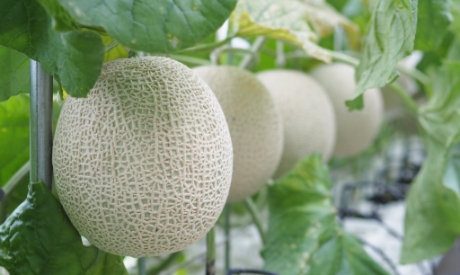 A low-potassium melon that can be comfortably eaten by people with kidney diseases.
The potassium concentration has been reduced so that it can be eaten by people with limited potassium intake, such as those with kidney disease. The reduction in potassium also reduces allergic antigens that cause irritation in the mouth, easing the tingling sensation and reducing the distinctive grassy smell.
Doctor Melon is a sweet, low-potassium melon produced
in Shizuoka Prefecture, Japan's largest shipper of greenhouse melons.

Our technology
As the realization of agricultural DX in the digital society accelerates, we are actively engaged in research and development of various technologies related to agricultural management.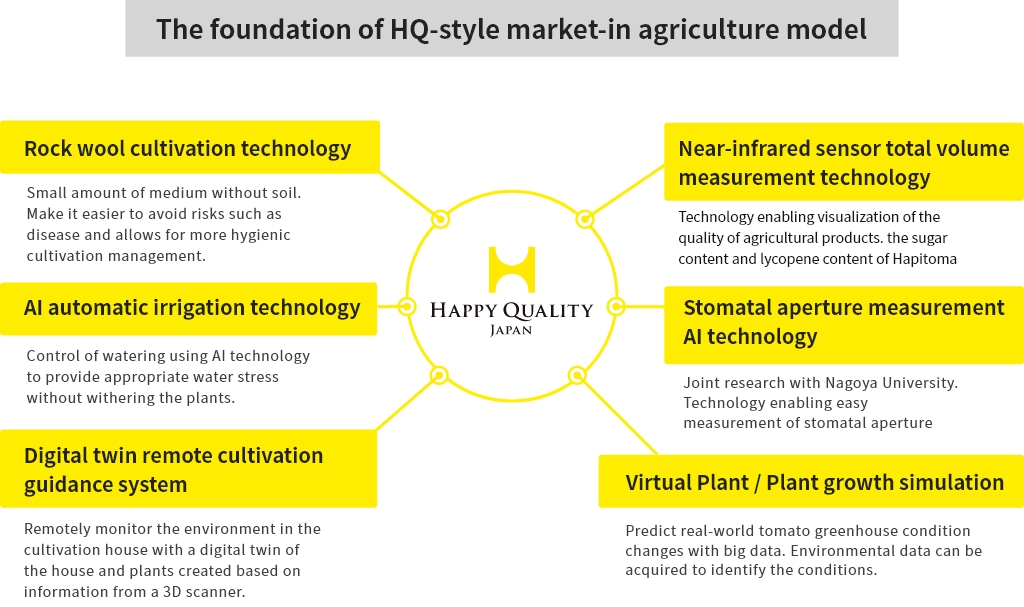 Partner Alliance
Advanced agritech development that ensures the quality and reliability of agricultural management support services is essential to help implement data-driven agriculture in the field. For this reason, we are actively promoting technological innovation through corporate alliances, joint research and other forms of open innovation.
Joint research and development
We will match seeds with needs and turn "What would be nice!" into reality. Our researchers and developers also collaborate with companies regardless of industry, research institutions, and educational institutions to solve common problems.
NTT DoCoMo cloud type AI irrigation
Provision of "Kansui Auto"

By providing our AI irrigation technology to the cloud, we are now able to offer the service as " Kansui Auto" within DOCOMO's farm management support platform " Hatake Assist". This technology enables the optimization of watering in the stress cultivation of tomatoes, which used to require extensive cultivation experience and sophisticated cultivation techniques, thus realizing the stable production of high quality, high sugar content tomatoes.
Experimental cultivation with Inochio Agri
EDGE-type "AI Irrigation Control System"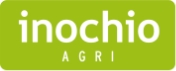 We have successfully integrated our proprietary infrastructure and cameras into irrigation control systems such as Inochio Agri's "AQUABEAT" to achieve edge AI. Thanks to this, processing speed has been dramatically improved, and instantaneous reaction to changes in the field environment has become possible. It has also made it possible to use the system in an offline environment, making it possible for producers in areas without a good communication environment to use the system.
Business alliance
By combining each other' s information and know-how, such as the development of business partners and the development of corporate needs, we aim to strengthen cooperation, build partnerships that are beneficial to both parties, and create synergies by utilizing each other's areas of expertise and strengths.
Business alliance with CRRA, a company that researches and develops direct CO2 capture systems
Through this partnership, we aim to contribute to the reduction of CO2 emissions in the agricultural field and to realize a sustainable green society. In addition, the two companies will complement each other's management resources to build a stronger business foundation and create new business opportunities, with the aim of increasing corporate value.
About us
We are developing a business model that establishes a profit base in agricultural management and realizes efficient and sustainable stable production by improving the efficiency of agricultural production and improving the soundness of agricultural management by adding high value to agricultural products. doing.
In addition, we are engaged in various research and development utilizing digital technology, support on-site implementation of data-driven agriculture, and actively engage in agritech research and development to improve the accuracy of services.
Representative Message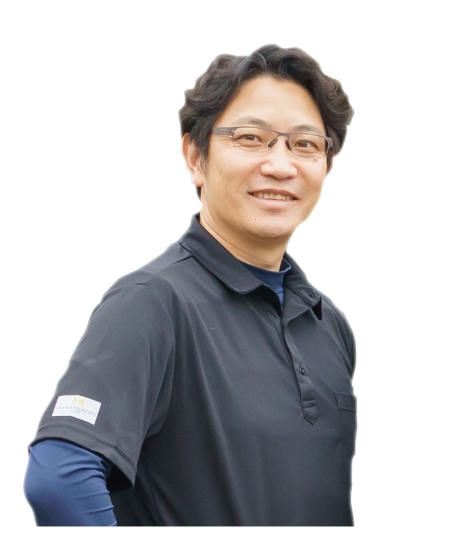 We are taking on the challenge of revolutionizing the agriculture and distribution industries and changing attitudes.
Our vision for the future of our business is the creation of social value: "An infrastructure service company for the agricultural industry from production to distribution" = "Happy Quality: Standard". We will continue to develop our services not only for the Japanese agricultural industry but also for the global agricultural market.
Our unique agricultural support services will contribute to the revitalization of Japanese agriculture by promoting the adoption of smart agriculture as a "new agricultural form".
In addition, as the realization of agricultural DX in the digital society accelerates, we will actively engage in a variety of research and development using technologies related to agricultural management. And we will take on the role of a player with organizing functions across the domains of frontline, operations, and infrastructure.
Representative Director Makoto Miyachi
宮地 誠
Company name
Happy Quality Co., Ltd.
Representative
Representative Director Makoto Miyachi
main office location
1567-1, Iida-cho, Minami-ku, Hamamatsu City, Shizuoka Pref. 435-0028, Japan
1887 Kuno, Fukuroi City, Shizuoka Pref. 437-0061, Japan
Research House
1317-1 Oyama, Fukuroi City, Shizuoka Pref. 437-0056, Japan
E-mail
info@happy-quality.jp
Date of foundation
'February 13, 2015
Capital
91 million yen
Business Description
・Product development using agricultural Al technology
・Consulting and vegetable wholesale business
Affiliated Company
Agriair Corporation / Shizuoka University Venture
2015
Founded Happy Quality Co., Ltd. in Hamamatsu City, Shizuoka Prefecture
2018
Founded Agri-heir Corporation (Shizuoka University Venture)
Started research and development of AI irrigation system with Mineno Laboratory, Faculty of Informatics, Shizuoka University
The 27th Shizuoka Prefecture New Business Award
2020
Formed an agriculture x AI technology group
ー

January

Received investment from Hamamatsu Iwata Shinkin Bank VC "Yaramaika Fund".
ー

May

Released all shares of Sunfarm Nakayama Corporation and separated the company.
ー

June

Acquired all shares of Agri-heir Corporation and made it a wholly owned subsidiary. 
ー

October

Accepted investment from SONY and Venture Investment and Research Association.
2021
270 million yen in sales for the fiscal year ended in August.
Won the Grand Prize in the Challenging Spirit Category of EOY 2021 JAPAN Tokai and Hokuriku Region
Won the New Business Fair 2021 CNB Venture Grand Prix 'Grand Prize' and 'Special Prize "NICT Prize"'